Updates from Centennial Valley
We asked some Lakeview locals to give us updates on weather and wildlife in Centennial Valley while we are away for the winter. Here is the October report from our partners at Lakeview Elementary.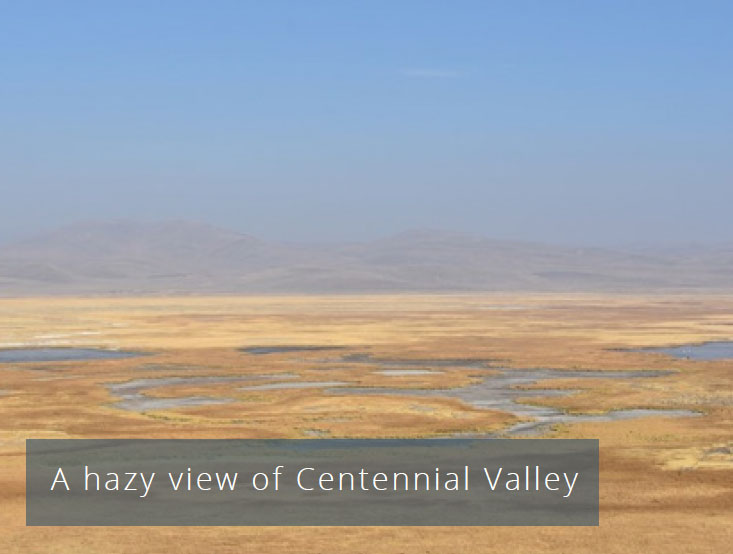 "Though it is still autumn, there are signs of the oncoming winter in the Centennial Valley. The golden aspen leaves have departed on the wind, and sounds of elk bugling have become less frequent. We are now anticipating the calls of tundra and trumpeter swans overhead as they migrate to warmer locations for the winter. The trumpeter swans in the Centennial Valley include a small number of year-round residents that winter at spring-fed ponds that do not freeze, as well as migratory trumpeter swans passing through. Tundra swans nest on the Arctic tundra and stop over at the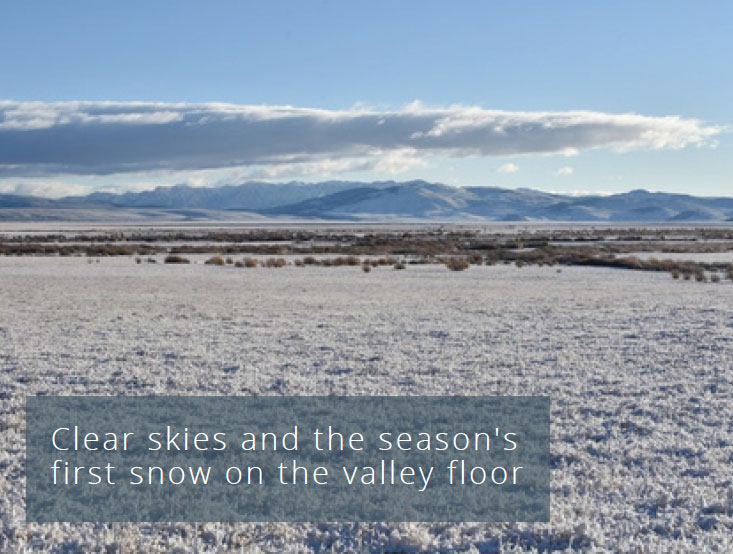 Red Rock Lakes on their migration to more southerly wintering grounds on the coast of California, among other locations.
Recent wildlife sightings include a red fox, a bald eagle, and a large congregation (~150) of elk on the Valley floor. Mountain bluebirds were still about in Lakeview as of October 11th. The family of Great Horned Owls living in our neighborhood have been sighted and heard at dusk, with the young making their begging calls. In autumn, adult Great Horned Owls reduce frequency of feeding their young to encourage them to hunt independently and disperse to new territories.
We ended the month of September without any snow on the valley floor, which is somewhat unusual. However, on October 11 we woke up to see the ground covered in white. The snow soon melted in the October sunshine, and now only remains on Big Sheep Mountain and the others surrounding the Valley. Smoke from fires on the West coast reached the Valley intermittently during the summer, but the closest fire was the Lobo Mesa fire in the Gravelly Mountains on the north side of the Valley. This fire created a hazy sky for a few weeks in September and early October, until the recent snowfall."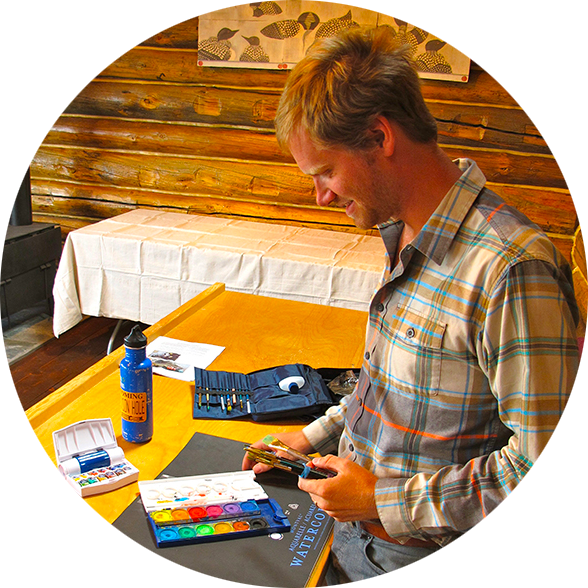 Apply for our Artist-In-Residence Program

We are now accepting applications for our 2021 Season, which will begin June 15th and end October 1st. Residencies last between 2-6 weeks. We encourage artists from all fields to apply. For more information, visit our website.
Artist Reflections
We are already looking forward to having our Artist-in-Residence program up and running again next season, with extra health precautions in place. Applications are now available on our website, along with more information about the program. We wanted to take this opportunity to share some reflections from previous artists on their residencies.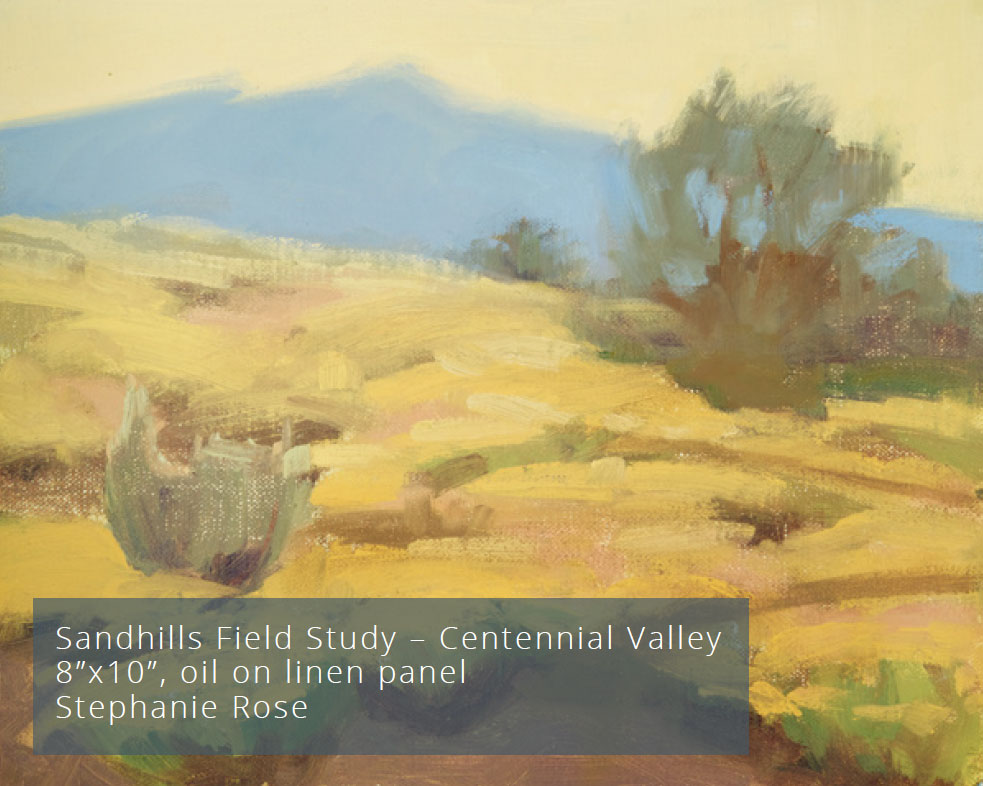 "Sometimes a scene I paint outdoors sears into my memory and lives with me for a long while afterwards. My most vivid memory as artist in residence was the day I painted in the sandhills on the northeastern side of the Centennial Valley. I set up my pochade box in a gentle sandy swale dense with rabbitbrush in full bloom, which it does in September. As a late bloomer, rabbitbrush (Ericameria nauseosa) is an important food source for pollinators when other plants have already gone to seed. When backlit by the sun, its blooms are spectacular puffs of yellow surrounded by a halo of bright light. The swale was blanketed in a golden glow set against a backdrop of a hazy orange afternoon sky and cobalt blue mountains to the south. Surrounding me, the air hummed with all the insects/pollinators feasting on the rabbitbrush - their last dependable meal before winter took hold. The field study I painted that day is a sketch, a rough impression of my experience. Imperfect as it is a daily source of inspiration for me – my muse, perhaps. The painting sits on a shelf in my studio where I see it every day. When I look at it, I am instantly transported back to that day which had an element of magic for me. I remember that my purpose as an artist is to strive to share with others my delight in nature and wilderness. I remember that understanding begins when I am quietly immersed in and observant of a place. My residency at Taft-Nicholson Center for Environmental Humanities influences my work every day, and for that I am grateful.
A haiku to commemorate that day….
Pollinators hum
Backlit puffs shimmer dazzling light
Last feast of summer"
- Stephanie Rose, AIR September 2019
"My three weeks at the Taft-Nicholson Artist Residency were some of the most inspiring, meaningful, and productive of my life. What an amazing gift it was to have time and space to think, create, explore, learn, and just be in this very special and unique place. I left inspired to advocate for and help facilitate access to natural spaces like this for other people of color like myself that haven't had the privilege of experiencing what only places like this can offer. To experience nature like this in a welcoming and supportive environment of thoughtful, caring people is both empowering and humbling. I'm grateful to the Taft Family, the Carter Family, the entire TNC staff, and to the University of Utah for making this extraordinary experience possible for artists."
- Jorge Rojas, AIR July 2019
"The Centennial Valley is now forever planted in my imagination the expanse of sky, shifting dramatic light, the kindness of people: from scientists on the refuge, to ranch families, to others who make a life interdependently with the landscape. In the past I had visited Montana, Idaho, Wyoming, and the Greater Yellowstone Ecosystem but now have a more intimate sense of its scope and depth. As much as the immersion itself, the end of an artist residency is when the work really begins: what are its ripple effects? It's like touching the Missouri River headwaters at Hell Roaring Creek in the Centennial Valley and realizing that same water may end up in the Mississippi Delta and the Atlantic Ocean. You have to be patient enough to follow the meandering course."
- Gretchen Henderson, AIR June 2018
Check out more pictures and videos from Odell Creek, and our other trail talks,
on our Instagram page @uofutaftnicholsoncenter. Happy trails!