2015 Artists-in-Residence Program
Call for Proposals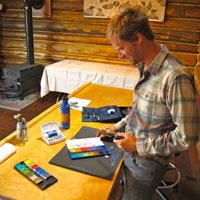 The Taft-Nicholson Center Artist-in-Residence Program offers dedicated artists a supportive and transformational environment to further their creative development. In a remote setting dedicated to the historical integrity of the land and the preservation of natural habitat and wildlife, artists can experience unencumbered time to allow for thoughtful reflection and develop their work.
The 2015 Artist-in-Residence Season begins on July 1st and ends on September 30th. It is expected that residencies will last at least a month but artists are encouraged to specify how much time they need for their project. Nothing shorter than two weeks will be considered.
Artists from diverse multidisciplinary fields are encouraged to apply. This includes visual artists, composers, writers, dancers, photographers, film makers, play writes, and textile artists.
Artists are responsible for their own travel costs, equipment and materials. Awarded artists are supplied with the following lodging and work spaces:
Lodging in the Carter Family Artist's Residence: The residence is a private one-bedroom house with living room, kitchen, wood stove, and work/study area
The Zimbeaux Art Center: The Art Center is a restored school house with beautiful views of the Centennial Valley. There is a large open workspace with small kitchen and bathroom.
It is assumed artists will be using their kitchen and cook for themselves. Catering is available when workshops are in session and artists can pay the caterer for meals at that time. The Center will pay for one catered dinner with each workshop group so students and faculty can become acquainted with the artist. We do not want to exclude anyone selected from participating in the residency program because of food costs. If an artist needs financial assistance via a scholarship for meal support, please contact Director, Mary Tull, for an application.
Requirements: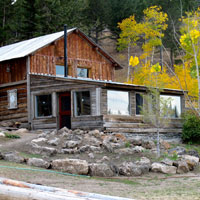 As part of the Taft-Nicholson Center community, Artists-in-Residence are expected to participate in the following ways:
Interact with other faculty and students at the Center by occasionally joining the community for dinner.
Donate one work to the center that is inspired by Centennial Valley and your experiences in residence.
Make at least one demonstration or portfolio presentation to the community.
Be willing to be photographed, filmed and/or interviewed for the center archives and website.
Application Process
Applications will be received electronically until March 30, 2015. Awards will be announced on by May 1st. Download the application form at the top and email it to Director, Mary Tull at mary.tull@utah.edu along with resume, proposal, artist statement and 6-10 images or digital samples of your work. Refer application questions to Mary Tull via email. Couples must apply as individual artists.